"

Shell Shocked

"
Power Rangers in Space episode
Season Code:
255
Episode:
4
Original airdate
February 27, 1998
Written by
Judd Lynn
Producers:
Shuki Levy
Scott Page-Pagter
Judd Lynn
Jonathan Tzachor
Haim Saban
Paul Rosenthal
Directed by
Blair Treu

Episode chronology
← Previous
Next →
"Save Our Ship"
"Never Stop Searching"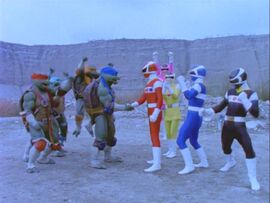 "Shell Shocked" is the fourth episode of Power Rangers in Space. It continues from the end of the previous episode, "Save Our Ship".
Plot
The Turtles are placed under a spell by Astronema, and pretend to be friendly to the Rangers to gain their trust and sabotage their ship. Upon the spell being disrupted, the Turtles return to their former selves and ally with the Rangers, defeating Astronema.
Before the Turtles return home, the Rangers allow them to use their space-faring surfboard-like transports, the Galaxy Gliders, to cruise around space with for a short time. despite the Turtles not wearing any special equipment such as space suits, oxygen tanks, and helmets, they are shown to be unaffected by the drawbacks of space on a living being.
Another unique ability exhibited by the turtles is reflecting and throwing around a ball of energy thrown at them by a villain. Such abilities have never before been exhibited by core 4 brothers. Only Venus has exhibited abilities like this before in Next Mutation due to her magical training. Splinter exhibited an ability like this in the anime. This episode implies that either Splinter or Venus have taught the male turtles how to use energy-manipulation powers, abilities and techniques.
Characters
Christopher Khayman Lee as Andros (Red Space Ranger)
Roger Velasco as Carlos Vallerte (Black Space Ranger)
Selwyn Ward as T.J. Johnson (Blue Space Ranger)
Tracy Lynn Cruz as Ashley Hammond (Yellow Space Ranger)
Patricia Ja Lee as Cassie Chan (Pink Space Ranger)
Paul Schrier as Farkas Bulkmeier (credit only)
Jason Narvy as Eugene Skullovitch (credit only)
Donene Kistler as Alpha 6
Wendee Lee as Alpha 6 (voice)
Julie Maddalena as D.E.C.A.
Melody Perkins as Astronema
Danny Stallcup as Ecliptor
Walter Lang as Ecliptor (voice)
Kenny Graceson as Elgar
Derek Stephen Prince as Elgar (voice)
Blake Torney as Electrotramp (voice)
Tom Trudeau as Reporter
Tony Oliver as Leonardo (voice)
Jason Gray-Stanford as Donatello (voice)
Kirby Morrow as Michelangelo (voice)
Matt Hill as Raphael (voice)
 ? as Venus De Milo (voice)
Community content is available under
CC-BY-SA
unless otherwise noted.