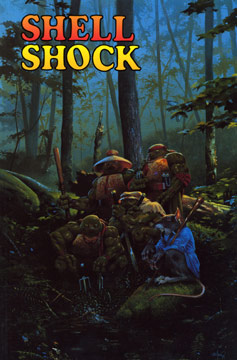 YOU'RE NOT ON 
 NICKTOONS 
 ANYMORE! 

Some TMNT stuff really isn't for little kids.
Shell Shock is a collection of 26 short stories set mostly in the Mirage continuity, 19 are reprints from other sources, 7 are all new material, published by Mirage Studios in December 1989. It was released to help get money for work against illiteracy in America, and Peter Laird and Kevin Eastman donated their profits on the book to Literacy Volunteers of Chicago, Inc.
Stories collected
Notes
"Shell Shock" collects a large number of the Ninja Turtles back-up strips and guest strips published over the years as well as several original pieces. However, the trade paperback falls short of collecting them all, omitting several.
Many of these back-up and guest strips were originally published in color, but have been reprinted in black and white for this publication. The only other alteration happened in regards to the short D'Ants Fever (mistakenly listed in the contents page by the title "Rick's Dive"), which was edited from its original version. Originally published in Grimjack #26, it had the Turtles visiting a favorite local of that series, Munden's Bar. The name of the bar was changed from "Munden's" to "Rick's", presumably for rights issues as Munden's is owned by the creators of Grimjack. The bartender's name was also changed from Gordon to Rick, except for one missed piece of dialogue.
Community content is available under
CC-BY-SA
unless otherwise noted.