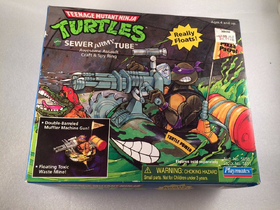 Awesome Assault Craft & Spy Ring
Accessories/ Features
Sewer Tube (holds 1 figure)
Double-Barreled Muffler Machine Gun
Foot Finder Gun Sight
Control Panel
Pizza Power Pennant
Floating Mutant Toxic Waste Mine
Mutant Mine Holder
Muck 'n Slime Camouflage
Pizza Cuttin' Oars
Radical Scum Blowing Side Pipes
"Float like a Turtle, sting like a bee with the official army surplus sewer tube. Scummier than a bathtub ring and twice the fun, the Sewer Army Tube is perfect for spy missions behind enemy drains and for septic tank warfare. Armed with a floating mutant toxic waste mine to stub the Footski and double-barreled muffler machine guns for silencing critics, the Sewer Army Tube is also great for a lazy afternoon of plunging over sludge falls and tumbling down white waste water rapids."
Gallery
Community content is available under
CC-BY-SA
unless otherwise noted.