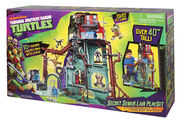 Super Sewer Headquarters of the Teenage Mutant Ninja Turtles
Description
The ultimate playset for Teenage Mutant Ninja Turtle fans, the Secret Sewer Lair playset is BIG, and ready for Ninja battle action! This playset will have kids creating their own Lair of excitement as they become the leader of the pack, swinging into action, training the Turtles and defeating Shredder once and for all! Standing 42 inches tall, the Secret Sewer Lair includes more than 20 different exciting Ninja features.
Turtle Fly Line
Secret Dumpster Periscope
Shred Head Pratice Dummy
Drop-in Manhole Door
Real-working Elevator
Flip-kicking Ladder
Hidden Spring-loaded Power Line Laucher
Rockin' Tire Swing
Spiral Stair Case
Don's Turtle Tech Lab
Secret Dumpster Hideout
Mutagen Ooze Drain Pipe
Drop-Down Fire Escape
Splinter's Dojo - With Real Sliding Shoji Doors
Transforming Hidden Wall With Work Station
Training Area
Secret Sewer Entrance
Climbing Telephone Pole
Fakeout Trap Floor
High-ground Battle Plataforms

The Secret Sewer Lair offers three different play levels to load up with your TMNT action figures: in the sewer, street level, and on top of the building. Features include a zip line, spring-loaded projectile, floors that fall out, hidden walls, an ooze pipe, and much, much more! Way to take on the bad guys! Drop the Foot with a trap floor, launch into action with the swinging ladder, dump some ooze with the Ooze pipe, and be a master of tech tracking with the super Lab computer!
Notes
Figures not included.
Ooze sold separately.
Galery
Videos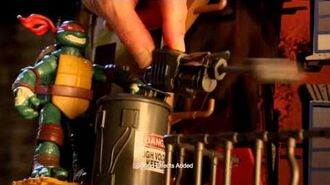 Community content is available under
CC-BY-SA
unless otherwise noted.