Scumbug
Biographical information
Weapon(s) of choice

Turtle Exterminating Gun

Occupation

Exterminator

Physical description
Species

Mutant Cockroach

Gender
Height

5' 5"

Weight

200 poisonous pounds of 91 killer kilos

Hair color

Yellow

Eye color

Black/Orange

Out of universe information
Era(s)
First appearance
Teachers and Students

  [Source]
 YOU'RE NOT ON 
 NICKTOONS 
 ANYMORE! 

Some TMNT stuff really isn't for little kids.
Scumbug is a human/cockroach mutated exterminator and an enemy of the Turtles.
Profile
The human exterminator who would become Scumbug first appeared in Teenage Mutant Ninja Turtles Adventures issue 10. He was hired by Oroku Saki under the guise of a businessman to deal with the roach problem in the basement of Shredder's current hideout, disguised as "Saki Inc" to fool the exterminator.
Chasing a cockroach, the exterminator slips on the messy floor and falls down a manhole filled with carelessly dumped Mutagen. The exterminator was mutated into a hideous cockroach mutant. Driven insane by the experience, the exterminator fought the Turtles in the sewers, mistaking them for green giant coachroaches and was later confronted by Wyrm (a mutant flatworm). As Scumbug and Wyrm fought knee-deep in sewer water, they accidentally got electrocuted by nearby power lines.
However they would both return in a future issue, and were slated to return in the final story arc of the series, Forever War, before its cancellation.
Personality
As an exterminator, he seemed to be a normal if clumsy businessman without any evil inclinations.
After turning into Scumbug, the exterminator went insane and still thought he was a normal human. He believes everyone else he encounters is a giant bug.
Mutanimals TV series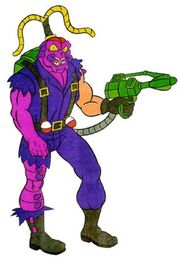 Scumbug was planned as a villain in the unproduced Mutanimals TV series.

Gallery
Community content is available under
CC-BY-SA
unless otherwise noted.