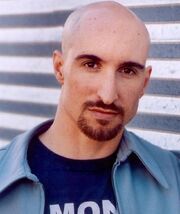 Scott David Menville (born February 12, 1971) is an American actor, voice actor and musician. He is best known for his voice work in animated films and television series.
His first role came in 1979 in an episode of Scooby Doo and Scrappy Doo. He is perhaps best known as Robin on Teen Titans and Teen Titans Go!, Lloyd Irving on Tales of Symphonia, Freddy Flintstone on The Flintstone Kids (taking over the role from Lennie Weinrib) and Ma-Ti on Captain Planet and the Planeteers. He also voiced Jonny Quest on The New Adventures of Jonny Quest and Quicksilver on The Super Hero Squad Show.
He did the voices of Metamorpho in Batman: The Brave and the Bold and JT on Ben 10: Alien Force.
In the 2012 TV series, he is the voice of Crankshaw in Space Heroes, Leonardo's favorite show, Dr. Blip in Super Robo Mecha Force Five!, Spooch in Crognard The Barbarian and Crankshaw Jr. in Space Heroes: The Next Generation.
Menville also voiced Donatello in the SDCC 2016 short, "Turtles Take Time (and Space)", as well as Dale in Rise of the Teenage Mutant Ninja Turtles.
Community content is available under
CC-BY-SA
unless otherwise noted.