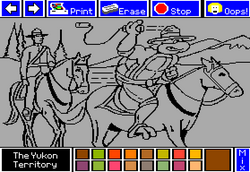 The Royal Canadian Mounted Police (RCMP for short and colloquially, "Mounties") are the federal police force of Canada. Despite the name, they are no longer by and large a mounted police force, and the traditional uniforms are and horseback usage are mostly ceremonial.
Teenage Mutant Ninja Turtles appearances
Michelangelo rides alongside a Royal Canadian Mounted Police officer on horses in the Yukon leg of the Ninja Turtles' journey in Teenage Mutant Ninja Turtles: World Tour. He is the only non-Turtle character (outside of random animals) that appears in the game. Monty Moose is also a mutant moose Mountie.
Community content is available under
CC-BY-SA
unless otherwise noted.