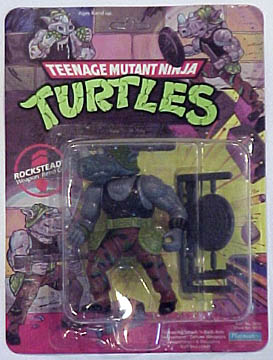 Mutant G.I. Mauler and Shredder's #1 Thug
Vital Rhintistics
Weapons: Retro-Mutagen Gun, Manhole Cover Shield, Turtle Carver Knife
Birthplace: La Brea Tar Pits
Height: 5' 7"
Weight: 240 lbs.
Age: 25
Previous Forms: Military Punk/Rhinoceros


Rocksteady's tough rhino body makes him a turtle-bashing powerhouse. His lack of smarts makes him dangerous. This mutant mammal is big trouble with his Retro-Mutagen Gun: one shot can level a whole building or a shelled turtle. Off-duty, Rocksteady loves to fry up a mess of juicy turtle burgers for the whole hungry Foot Clan.
Rocksteady's fieldglasses survey the area for anything that looks like a Turtle. (He's mistakingly blasted six soccer balls). This G.I. rockhead blatantly displays his victory kills with the turtle scalps he wears around his belt.
Notes
This figure was originally release in the US in 1988 and 1990 in the UK.
The figure was also re-released in 1990, 1992, 1994, as a 25th anniversary special in 2009 and part of the Classic Collection figures in 2015.
The Classic Collection figure is identical to all the other previous versions but is missing paint apps on his wrist bands and the camouflage on his trousers/pants.
The Turtle Carver knife figure was also packaged with the 1988 Foot Soldier and later recolored into a blueish grey for the General Traag 1989 figure and again for the Night Ninja Rocksteady 1993 figure in a bright blue.
The Garbage Can Shield was also packaged with the Cheapskate 1988 toy.
Gallery
Community content is available under
CC-BY-SA
unless otherwise noted.