'Rise of the Teenage Mutant Ninja Turtles' Trailer
Play Sound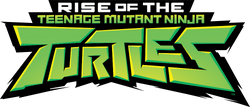 Rise of the Teenage Mutant Ninja Turtles is a 2D-animated television series. It first aired as a special preview on July 20th, 2018, before its full debut on September 17th, 2018.[1] After the special preview, it was renewed for a second season.[2]
The series was officially cancelled by Nickelodeon in September 2019[3][4] and its second season concluded August 7th, 2020[5], with the series' second and final season being cut short.[6][7][8][9][10][11][12][13][14][15]
The series is initially broadcast on Nickelodeon in the United States, and then week(s) later the episodes reran on YTV in Canada.
The series can be streamed legally on Netflix Canada and Netflix US. On April 7th, 2021, the first 20 episodes of the series were made available on the streaming platform Paramount+.[16] The complete first season of the series was then added to Paramount+ on May 20th, 2021.[17] The complete second season of the series was added to Paramount+ on February 23rd, 2022.[18]
Production
Development
The 2D series is co-executive produced by Andy Suriano (character designer for Samurai Jack) and Ant Ward (supervising producer of the 2012 TV series). The series is said to be lighter and more humor-oriented than its predecessor series.
Synopsis
Deep down in the sewers of the hugely populated New York City, Raphael, Leonardo, Michelangelo, and Donatello are four mutant turtle brothers in their teenage years who go on new adventures where they end up "tapping into mystic ninja powers they never knew existed", while learning to work together as a team and navigate the perils of the modern age and hidden realms in order to fulfill their destiny to become a team of true heroes.
Plot
Season 1 (2018-19)
The Turtle brothers, along with their friend April O'Neil, meet an evil alchemist named Baron Draxum, and the dangerous Foot Clan. They also learn of their Master Splinter's secret: that he was once martial arts expert, and movie star, Lou Jitsu. They must collect pieces of an ancient dark armor to prevent the Foot Clan and Draxum from resurrecting the Shredder, a demon once banished by Splinter's ancestors.
Season 2 (2019-20)
The Turtle brothers return in this season to battle against foes old and new, redeem the warrior alchemist, and fight the Foot Clan once more, while facing off against their greatest threat yet: The Shredder.
Characters
Production crew
Episodes
Animated film
On February 5th, 2019, Nickelodeon revealed that a feature film based on the series is currently in development.[22] The film finished production April 7th, 2022[23] and is set to be released on Netflix August 5th, 2022.[24][25][26]
Trivia
According to a behind the scenes video, the show focuses on the Ninja Turtles "before they started their career as crime fighters".[27]
This is the first time April O'Neil is portrayed as black in a TMNT TV series or film. The original Mirage April was inspired by a biracial woman Kevin Eastman once dated and her ethnic appearance in early issues was ambiguous and in a state of flux, but was later more consistently portrayed as white.
This is the first time Raphael is the oldest Turtle and leader of the Ninja Turtles instead of Leonardo. As stated by the voice actors, the new order of the Turtles (from oldest to youngest) is now: Raphael, Donatello, Leonardo, and Michelangelo.
This is the first time that each Turtle is a different species from one another:

Raphael is an alligator snapping turtle.
Leonardo is a red-eared slider turtle.
Donatello is a spiny softshell turtle.
Michelangelo is an ornate box turtle.

This is the second series in which a Turtle utilizes tonfā as a weapon with Raphael using them in place of his twin sai, the first being Michaelangelo in Ninja Turtles: The Next Mutation.

Leonardo and Michelangelo also don't use their traditional weapons in this series. For instance, Leo wields an ōdachi instead of twin katana blades, and Mikey wields a kusari-fundō instead of twin nunchaku.
It is revealed in "Mystic Mayhem" that the Turtles were given their original weapons by Splinter, only for them to be destroyed by Baron Draxum's guardsmen in the same episode. They originally find replacements in Draxum's weapons vault, but they take their new mystic weapons instead. Donnie was offered a new weapon, but chose to continue wielding his bō, which he had technologically enhanced into a Tech-Bō.

Unlike previous incarnations, the Turtles are all in different ages[28]:

Raphael is 15 years old, and is the first incarnation to be older than Leonardo.
Leonardo and Donatello are both 14 years old.
Michelangelo is 13 years old.
The four Turtles still mutated into half-humans at the same time. During the time period of the first episode, "Mystic Mayhem", they had been mutants for less than 13 years.

This is the first time in any incarnation of the Turtles that some or all of the Turtles consistently call themselves or each other by nicknames other then their most common and well-known ones.

Raphael is still called Raph, but Splinter usually just calls him Red.
Leonardo is still called Leo, but is also at times called Leon, and Splinter usually just calls him Blue.
Donatello is still called Donnie, but Splinter usually just calls him Purple.
Michelangelo is still called Mikey, but is also at times called Michael, and Splinter usually just calls him Orange.

"Mystic Mayhem", the pilot episode, premiered as a sneak preview of the series on July 20th, 2018, right after Nickelodeon's Kid's Choice Sports.
The entire Rise of the TMNT production crew was gifted the Purple Dragons club jackets depicted in the series.[29][30][31][32][33][34]
This is the first series to not initially show how the Turtles and April first met.
The co-executive producers and writers of Rise of the TMNT sought to prioritize highlighting and conveying love between the brothers and their family as a cornerstone of the show.[27][35][36][37][38][39][40][41]
As Rise of the TMNT is a comedy-first series[42][43], many jokes are written, but several are routinely cut during episode production due to factors such as episode time constraints and rejection from the network.[44][45][46][47][48][49][50][51][52][53]
It takes at at least a year and a half to fully produce a Rise of the TMNT episode from start to finish.[54][55][56][57]
This is the first series to have an extended edition of its theme song. The extended version was released on September 11th, 2018, and after two days the theme song had over 100,000 views.

The extended theme was later made available on iTunes and Google Play on May 8th, 2020.

Unlike previous incarnations, these Turtles have powers which they gained from their new mystic weapons (except for Donnie, whose weapon is technological):

Raph has a power called Smash Jutsu.
Mikey has a power called mystic whip.
Leo has the power to create portals.

There was a DVD released on March 12th, 2019 with seven early episodes.

A second DVD was released on February 4th, 2020 with six more episodes.

Unlike past incarnations, the Turtles have a biological relationship with Splinter by sharing his DNA.
This is the first series with a female Casey Jones. Although there is another female Jones named Shadow Jones in Mirage comics.
Canadian singer Justin Bieber canonically exists in this show's universe. See episode "Al Be Back" for reference.
A reference to this series is made in the show Brooklyn Nine-Nine season 7 episode 10 "Admiral Peralta". The character Jake Peralta is a TMNT fan and he mentions the new reboot with a new take on Splinter and Krang's backstory.[58]

A counter argument for this being a reference is that Jake mentioned Krang, a character that had yet to make an appearance or mention when that episode aired. The Krang would only make an appearance five months later during the season 2 finale and in the upcoming Rise of the Teenage Mutant Ninja Turtles: The Movie.

It was revealed in August 2020 by Rise of the TMNT writer Russ Carney in a Tweet that the show was script-driven, stating, "[Rise of the TMNT was] Script-driven, technically, although we had some renegade board artists and directors.".[59][60]
Rise of the TMNT was originally planned to be a purely episodic series, but an overarching narrative was implemented due to network demand, which changed over time.[61]
Awards
| Year | Award | Category | Nominee | Result |
| --- | --- | --- | --- | --- |
| 2019 | Annie Awards | Best Animated | Show | Nominated |
| 2019 | Annie Awards | Outstanding Animated Effects | Jeffrey Lai | Nominated |
| 2019 | Annie Awards | Outstanding Storyboarding | Kevin Molina-Ortiz | Winner |
| 2019 | Nick. Kids Choice | Favorite Cartoon | Show | Nominated |
| 2019 | Daytime Emmy | Outstanding Children's Animated Series | Show | Nominated |
| 2020 | Annie Awards | Best Animated | Show | Nominated |
| 2021 | Annie Awards | Best Direction | Alan Wan | Nominated |
| 2021 | Annie Awards | Children's Media | Show | Nominated |
Source: Twitter and Wikipedia

Videos
External Links
References