Rhogen
Biographical information
Weapon(s) of choice
Physical description
Species
Gender
Bandana color
Out of universe information
Created by
Voiced by
Teachers and Students

  [Source]
Rhogen is a character from the comic Space Usagi. He is a descendant of Murakami Gennosuke.
Overview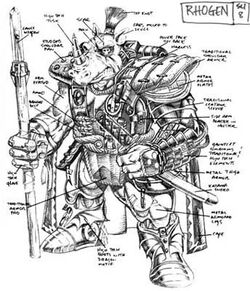 Rhogen makes an appearance in the unaired pilot for the Space Usagi cartoon series, voiced by Jim Cummings.[1] He was also set to appear in the unproduced second season of Fast Forward in the "Space Usagi" episode.
A Rhogen toy design for the TMNT action figure line was designed by Michael Dooney, but was never produced.
References