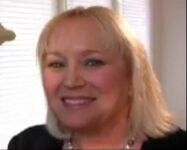 Renae Jacobs (born February 1, 1957 in Lansing, Michigan; 65 years old) is the American voice actress for April O'Neil, Lotus Blossom, Jersey Red (among others) in the 1987 animated series.
Ninja Turtles
While working in Los Angeles in 1986, she received a call to audition for Teenage Mutant Ninja Turtles. She was directed through the audition by Stu Rosen. The first day Rosen made it clear he didn't approve of her for the role, and had waited to show her audition after exhausting all the others.
"Every one I played, the producers said 'No, no, no, that's not April,' and finally I was out of people to show them, so I pulled your audition out and played it for them and they said 'That's April!'" —Stu Rosen
She developed her initial personification of O'Neil after reading the description in the casting material, not the comics themselves."
"There was a very good character description of her, so I looked at that and I kind of built her based on me. I felt that she should be a very strong character with very good convictions, she should be a loyal friend; she should be serious about her work and she wanted to be taken seriously, not just looked at as another pretty face." —Jacobs
It was also the first role she was awarded that wasn't a "crazy little made up fantasy character."
In the 2012 TV series, Renae Jacobs provided the voice of Mrs. O'Neil and Mom-Thing.
Voices
1987 series
Diner worker
Second Woman in Salon
Viking Villager
2012 series
External Links