Line 104:
Line 104:
 

* Raphael's the third tallest/second shortest of the turtles. 

 

* Raphael's the third tallest/second shortest of the turtles. 

 

* In the first season of the show he has three big rivals - [[Fishface]], [[Spider Bytez]] and [[Spy-roach|Spy - Roach]].

 

* In the first season of the show he has three big rivals - [[Fishface]], [[Spider Bytez]] and [[Spy-roach|Spy - Roach]].

 
+

* His two worst fears appear to be cockroaches and losing his brothers, especially [[Michelangelo (2012 TV series)|Michelangelo]].

 

[[Category:Teenage Mutant Ninja Turtles (2012 TV series)]]

 

[[Category:Teenage Mutant Ninja Turtles (2012 TV series)]]

 

[[Category:Teenage Mutant Ninja Turtles (2012 TV series) characters]]

 

[[Category:Teenage Mutant Ninja Turtles (2012 TV series) characters]]
---
Revision as of 23:12, 4 March 2014
Raphael
Biographical information
Home
Nickname(s)
Date of birth
Weapon(s) of choice
Physical description
Species
Gender
Eye color
Bandana color
Out of universe information
Era(s)
First appearance
Voiced by
Teachers and Students

  [Source]
Raphael or Raph is the "hot-headed muscle" of the Teenage Mutant Ninja Turtles. He often lets his impulsiveness get in the way instead of using rational thinking. He has a soft side, only revealing it to his pet turtle Spike. His weapon of choice is, like in every other variation, twin Sai. He is voiced by Sean Astin.
Personality
Always acting before he thinks things through, he is the muscle of the team. He is sarcastic, tough, and at times mean, but he is known to have a soft side when caring for his pet turtle Spike. It is also shown that he loves his brothers very much, and shows his nurturing side at times, mostly to Michelangelo. However, he often feels that his family doesn't understand him so he doesn't usually open up to them. As seen in New Girl in Town, Leonardo and Raphael begin to argue. Leonardo decides that Raphael should lead the team, if he can do better. Raphael agrees. During this, they battled Snakeweed, and Mikey ended up injured. Raphael said he froze up seeing Michelangelo like that. He told Splinter he needs Leonardo. He also said, "I don't mind risking my own life, but risking my brothers'..." This shows us how much he cares about his brothers.
Abilities
Raphael is the strongest and toughest of his brothers, being able to take on much larger opponents quicker and more easily. His temper, if used correctly, can boost up his strength and make him even stronger. Like his brothers, Raphael is stealthy, can hide in the shadows, sneak around without being detected, and use hand-to-hand combat, or Taijutsu. He is also seen to be quite intelligent when he thinks clearly and often takes the role of second-in-command of the turtles. He has also demonstrated the ability to take control or influence animals, mainly pigeons, to help out. Though the extent of this ability has not yet been fully explored or whether or not it will be shown again. It is also shown in Slash and Destroy that Raphael is able to use the famous Pressure Point technique as he uses it to defeat Slash.
Weapons
During most of the series, Raphael wields a pair of Sais which, like his brothers with their chosen weapons, he is highly skilled with. In Pulverizer Returns, Master Splinter says that the boys are relying too heavily on their own weapons and makes them swap. After this process, Raph is left with Mikey's Nunchucks. During a fight, the Turtles become uncooperative with their new weapons and swap back. When Splinter finds out, he confiscates all weapons, stating that anything can be useful. When he and his brothers are trying to save Timothy, Raphael uses two planks of wood and holds and fights with them in a style similar to his Sais. In The Gauntlet, he used a Yumi bow and like his other brothers wields Shurikens. In Booyaka-Showdown, Part 1, Raphael armed himself with Kama scythes, Shuriken, Kunai, Tonfa and Brass Knuckles.
Biography
While down in the sewers, Raphael beat Donatello and then he fought Leonardo, (who beat Michelangelo in a fight before) and then won the training tournament by throwing Leonardo with his Sai. However, when Splinter congratulated them, Raphael bragged about his win, which caused Splinter to hit a pressure point on his neck and forced him to compliment his brothers. The Turtles are later seen eating a dish Michelangelo prepared called "Algae and Worms." After the meal, Splinter relays the story of how they were transformed (which is fairly different from the other origin stories told in the other series).
Fifteen years before the Rise of the Turtles, Part 1, the benevolent Hamato Yoshi purchased the four turtles. Yoshi came into contact with a rat and had to fight against a couple of Kraang. The aliens dropped their mutagen, causing the mutation of Yoshi and the Turtles. Yoshi raised the Turtles as his own children and continues to train them in ninjutsu. Splinter agrees after some begging to let the Turtles go to the surface. It is here that Raphael scares a Pizza delivery guy who speeds away on his motorcycle.
Raphael's character design was updated, giving him green eyes as well as a small, lightning shaped chip cut out of his plastron across his left shoulder. His shell shows distinct battle damage, and the tails of his mask are tattered and worn. On the new ninjaturtles.com, Raphael says that he usually uses his sai as a pair of pizza forks.
Relationships
Family
Allies
Enemies
Quotes
See: Raphael (2012 TV series) / Quotes
Gallery
See: Raphael (2012 TV series)/Gallery
Trivia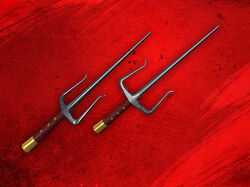 Community content is available under
CC-BY-SA
unless otherwise noted.