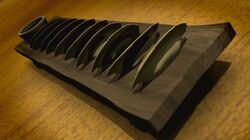 Pizza gyōza is a dish created by Mr. Murakami. The original gyōza (kanji: 餃子; katakana: ギョーザ or ギョウザ) is a type of dumpling (although, in English-speaking countries, they're compared to potstickers) usually filled with meat or vegetables, and is actually a Japanese variation of Chinese jiǎozi (also called chiao-tzu; TC: 餃子; SC: 饺子). Pizza gyōza is the same kind of food, but stuffed with pizza ingredients.
History
Never Say Xever - Murakami creates pizza gyōza after the turtles saved his life.
Karai's Vendetta - April goes to Murakami's and offers some to Karai.
The Wrath of Tiger Claw - Murakami makes pizza gyōza for the turtles and Michelangelo forgets his leftovers at Murakami's.
Gallery
Pictures
Animations
Videos
Community content is available under
CC-BY-SA
unless otherwise noted.