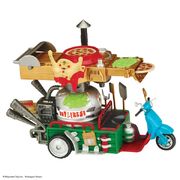 Motorized Perpetual pizza Flinger!
Pizza Thrower is a pizza shooting vehicle toy that will be released by Playmates toys in 2015, it was revealed at the 2014 San Diego Comic Con.
Description
Press the Pizza Face to shoot the pizza discs!
Holds 6 pizza discs!
Pizza shoots out everytime the button is pressed!
All the Turtles can take a ride on this punishing pizza pummeler.
To keep the streets safe, the vehicle rolls into action with a motorized perpetual pizza flinger, flinging pizzas at anyone that gets in its way.
Includes 10 pizza discs
Compatible with most Turtles basic action figures (sold separately)
Notes
The pizza shooting button is molded as cartoon character Pizza Face.
Gallery
Community content is available under
CC-BY-SA
unless otherwise noted.