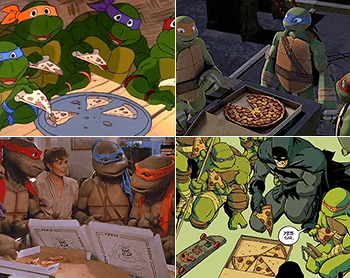 Pizza is a type of flatbread that originated in the 18th century or early 19th century in the city of Naples, Kingdom of the Two Sicilies (today part of modern Italy). Pizza has since become popular in many parts of the world, especially the United States of America, where distinctly American style of pizza has developed. Pizza was made as the Ninja Turtles' favorite food as Kevin Eastman and Peter Laird often ate it for lunch while working on the original comics.[citation needed]
By appearance
Mirage
 YOU'RE NOT ON 
 NICKTOONS 
 ANYMORE! 

Some TMNT stuff really isn't for little kids.
Pizza occasionally appeared in the Mirage universe, but it never had the central role in the Turtles' diet as it did in other versions.
1987 TV series / Archie
The 1987 cartoons are, along with the comics based on them, a TMNT universe in which the Ninja Turtles all share an intense affinity for pizza, particularly Michelangelo. They are hardly ever seen eating anything else; however they are very flexible with what toppings they like on their pizza, experimenting with all sorts of items in every possible combination including:
Archie Comics
The Turtles always get their pizzas by going on the streets to a pizza parlor, dressed so no one could see that they are mutant turtles. Sometimes all four go, sometimes only one goes.
Pizzas are also the Turtles' weakness. The Shredder is aware of this, as many of his plans to destroy them involve pizza (like the episodes "The Case of the Killer Pizzas", "Pizza by the Shred" etc.).
In some other TMNT universes, the Turtles eat other things, mostly sushi.
Image
 YOU'RE NOT ON 
 NICKTOONS 
 ANYMORE! 

Some TMNT stuff really isn't for little kids.
In the Image TMNT comics, Raphael talks about wanting pizza in issue #10.
In issue #17, April brings home some pizza.
The Next Mutation
2003 TV series
Pizza occasionally appeared in the 2003 TV series. Though not as much as they are also seen eating things such as Chinese food, Barbeque Soy Chips, Scrambled eggs and even ice-cream.
Dreamwave
In the Dreamwave comic series, Leonardo can be seen eating pizza in "Bend It Like Turtles".
2012 TV series
Similar to the 80s cartoon, the Turtles heavily enjoy consuming pizza, which they've grown to love since the first episode of the series. In "Karai's Vendetta", it was also confirmed that they, mostly Mikey, place strange toppings on their pizzas ( such as shrimp and sardine).
IDW
 YOU'RE NOT ON 
 NICKTOONS 
 ANYMORE! 

Some TMNT stuff really isn't for little kids.
In "Change is Constant " Raphael is digging through the dumpster hoping to find some food, he then finds a pizza box to which he is disappointed that it only has a few uneaten pizza crusts.
Video games
Pizza slices are often used as a health power-up in the TMNT video games. In Turtles in Time, one type of pizza grants the Turtles temporary high speed spin attack and invulnerability and they shout out "PIZZA POWER!!!"
Films
 YOU'RE NOT ON 
 NICKTOONS 
 ANYMORE! 

Some TMNT stuff really isn't for little kids.
The turtles also eat pizza in the film series. Except in the third film, they are not seen eating pizza but despite it not appearing, pizza does get mentioned. The second film begins with a sequence of people eating pizza all over New York.
At the end of Turtles Forever, the Mirage Turtles, after having encountered the 1987 Turtles and their 2003 counterparts, suggest to go eat some pizzas. Since the Mirage Turtles rarely ate pizza in the original Mirage comics, they are obviously influenced by their '87 counterparts.
In the new 2014 film the Turtle's couch is made of Pizza Hut's pizza boxes, the Turtles also appear in the Pizza Hut cheesy bites TV commercial. See more at: Teenage Mutant Ninja Turtles (2014 film)/Merchandise
Also in the 2014 film it is explained that April is the reason they love pizza as she fed it to them when they were little.
Trivia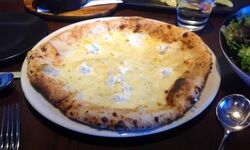 Although Donatello stated that a pizza with 99 different types of cheese would be impossible, Johnny di Francesco, an Australian pizza maker and owner of the 400 Gradi pizzeria, took the challenge and created a 99-cheese pizza after the film.
See also