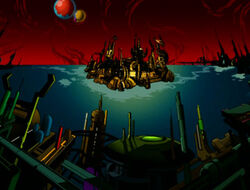 Peblak is a city on the D'Hoonnib planet. It appears in the 2003-2009 animated TV series.
In its sewers lives a bipedal turtle guiding four bipedal rats[1], a parody of the TMNT being four turtles guided by one rat, parodying Splinter.
References
Community content is available under
CC-BY-SA
unless otherwise noted.