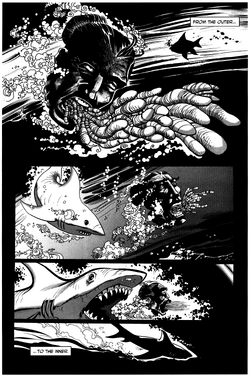 YOU'RE NOT ON 
 NICKTOONS 
 ANYMORE! 

Some TMNT stuff really isn't for little kids.
Paramecia Coloniex is the name given in Peter Laird's notes on Return to New York, for a species of "colony worms" created by the Foot Clan.
Using a mix of magic and science, the Foot Mystics created the Paramecia Coloniex and trained them to feed on the remains of a person and form together to become a replica of said person, all to resurrect the Shredder. Their first three attempts resorted in malformed mutants, before they finally succeeded in making a perfect clone[1].
The perfect clone was later beheaded by Leonardo, but the worms themselves survived and gained sentience, retaining the Shredder's memories and believing themselves to be Oroku Saki. They assimilated a shark, and went on to menace the Turtles on two separate occasions before finally being killed by Splinter and Casey Jones[2][3][4].
References
Community content is available under
CC-BY-SA
unless otherwise noted.