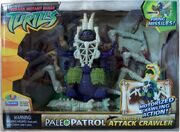 The Crawling Super Attack Transport!
Introducing the Paleo Attack Crawler – the crawling super assault transport of 65 million years B.C.! Made of sticks and stones and lots of bones – and powered by a mysterious crystal – Don's Paleo Attack Crawler scurries like a giant spider on its six pincher-legs and whaps out whiplash-whuppings with its wicked skeletal tail! And it even comes armed with megalithic missiles that can tenderize the toughest Triceratops and beat down the most brutish Brachiosaurus!

Accessories
Two Spring Fired Missiles
Articulation
Donatello: Thirteen Points of Articulation
Crawler: Cockpits Open and Close, Adjustable Handles, Three Hinged Joints At Base of Tail

Gallery
Community content is available under
CC-BY-SA
unless otherwise noted.