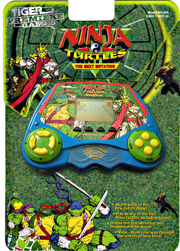 Ninja Turtles: The Next Mutation is an LCD game released by Tiger Electronics.
Playmates Interactive Entertainment (PIE) was developing a Ninja Turtles: The Next Mutation PlayStation game, but development was quietly discontinued without any information given. There were rumors for a time that the project and license had been picked up by Rockstar Games, but no official word was ever given. Before and after its status as a Next Mutation game, its working title was Teenage Mutant Ninja Turtles 3D, and it was said this was its title following its alleged acquiring by Rockstar.
The Tiger Electronics game had the player able to play as all five turtles (Leonardo, Donatello, Michelangelo, Raphael, and Venus de Milo) in five stages that each had to be beaten in 99 seconds.
Once a turtle was selected, the player would have to play as the Turtle throughout the run of the game and would be unable to switch Turtles at all. The player has a life bar and three extra lives. When the player runs out of lives or fails to beat the stage before time runs out, the game ends on a Game Over screen. Power-ups included pizzas for health and shurikens for defeating enemies and bosses easily.
The first stage had Foot Ninjas as the regular enemies with the Shredder as the boss.
The second stage consisted of the Turtles riding their Hummer in a race while avoiding obstacles and enemies.
The third stage featured Rank dragons as the enemies and ended with a battle against Bonesteel where the player could not damage him and instead had to dodge his attacks.
The fourth stage was another racing level with the Hummer.
The fifth and final stage once again had Rank dragons as the regular enemies and featured a battle against Bonesteel where the players could beat him this time and a final boss fight against the Dragon Lord.
Community content is available under
CC-BY-SA
unless otherwise noted.