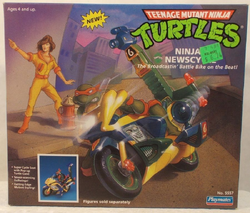 The Broadcastin' Battle Bike on the Beat! THIS JUST IN: The newest news-gathering video vehicle to hit the street is now on the beat. The Ninja Newscycle kicks reptile reporting into high gear.This headliner converts from a cool mutant street bike to a news scooping cycle. Now April O'Neil can cover any story at top speed. And it's fully equipped with all the extras, like the pop-up Turtle-Cam - perfect for recording high speed chases, and the secret sewer-scanning gullwings, loaded with news-breaking firepower. But that's not nearly enough for the Teenage Mutant Ninja News Hounds. Look at what else Donatello has added: two shotgun microphone missiles, 'cuz one is never enough: and a remote Turtle comm for communicating late-breaking bad boy busts. And to top it all off, Donny's added a snap-in satellite dish! Why, because it looks so cool. So go get a newsworthy Ninja and hop on board. Join our mutant press pals in their never-ending battle to bring it to you "Live!"
Accessories/features
Wacky Ninja Windshield
Super Cycle Seat with Pop-up Turtle Cam
Fold-down sewer-scanning Gullwings with "Snap-in" Satellite Dish and News Cam
Remote Turtle Comm
Detachable Microphone Missiles
Exhaustive Exhaust Pipes
Ninja Star Hubs
Notes
As a lot of other TMNT-related things, this toy was renamed the "Hero Newscycle" when it was released in the UK.
Gallery
Community content is available under
CC-BY-SA
unless otherwise noted.