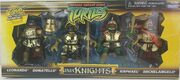 NINJA KNIGHTS
The Medieval Mutant Turtles!
Flung back in time by a powerful Foot Mystic, the Teenage Mutant Ninja Turtles find themselves in the Middle Ages… and in the middle of one battle after another! Lucky for them they met up with a medieval alchemist who forged them gold-plated armor, shields and weapons!

Accessories
Leonardo: Two Broad Swords, Shield, Helmet, Chest Armor, Shin Guard
Raphael: Four Pieces of Armor, Helmet, Shield, Two Sais
Michelangelo: Two Morningstars, Bow and Arrow, Quiver With Removable Bundle of Arrows, Shield, Helmet, Chest Armor
Donatello: Two Shin Guards, Two Gauntlets, Shoulder Cover, Chest Armor, Helmet with Movable Visor, Shield, Lance With Attachable Banner

Articulation
Rotating Neck
Rotating and Hinged Shoulders
Rotating Elbows
Rotating Wrists
Hinged Fingers
Rotating and Hinged Hips
Hinged Knees
Hinged and Rotating Ankles
Hinged Toes
Gallery
Community content is available under
CC-BY-SA
unless otherwise noted.