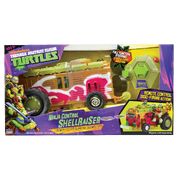 Sewer-cover slinging subway car
Description
From rail riding to street surfing, Donatello customized combat creation packs a powerful punch! With the green team all aboard, the Turtles can steamroll Foot with the barrel bumper or cream the Kraang with fast-flinging sewer covers.
Take full control of the Turtles' main group vehicle with this 11'' remote control Shellraiser.
Full Function Radio Control Steering (forward-reverse, left-right).
Remote Firing Sewer Cover Cannon - fires up to 10 discs at a time.
Easy-To-Use Infrared Controller.
Fast-flinging Sewer-cover Cannon
Comes with 12 Sewer Cover Discs.
Super-size Steerable Sewer Slicks.
Movable Bumper.
Roof Rider Rails.
Opening Compartment for Storage.
Holds Lots of Turtles Action Figures
Notes

Compatible with all basic figures
Figures sold separately
There's a sticker inside the toy of a concapt art for Michelangelo's work station in the series's Shellraiser.
Gallery
Videos