| | |
| --- | --- |
| | This article seems to lack an image or has an image that doesn't conform to TurtlePedia's standards. Please add a sufficient image and feel free to remove this template afterward. |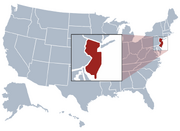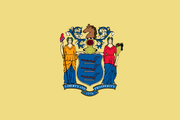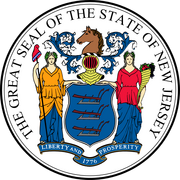 New Jersey is a federated state of the United States, located on the northeast coast.
You're in the Army Now, a short story published in Turtle Soup (vol 1) 1, is set at a United States Army basic training camp in New Jersey, where Leonardo and Donatello are confused for new recruits and are registered under the names Nardo (first name Leo) and Atello (first name Don).
New Jersey is referenced in many jokes. For example in the 1987 TV series episode The Foot Soldiers are Revolting, Shredder asks Alpha One to negotiate and conquer the Earth together, with Shredder allowing Alpha One to rule New Jersey.[1]
In the Teenage Mutant Ninja Turtles Adventures comic books, the Burroughs Aquarium in Jersey City, New Jersey is the former workplace of Jack Finney, the human oceanographer who would mutate and become Man Ray a.k.a. Ray Fillet.
According to 2012 TV series show writer Kenny Byerly, the ugly, stinky place that Mikey thinks is beautiful, where the Turtles end up after their wild subway ride at the end of the episode It Came From The Depths, was originally not a sewage plant as its appearance suggested, but was meant to represent a common sight of New Jersey itself.
In the IDW continuity, parts of the Teenage Mutant Ninja Turtles: Mutanimals miniseries (particularly the Null Rail Yard) and all of the story The Jersey Devil take place in New Jersey.
The episode The Evil League of Mutants in Rise of the Teenage Mutant Ninja Turtles is also set there.
References
Community content is available under
CC-BY-SA
unless otherwise noted.