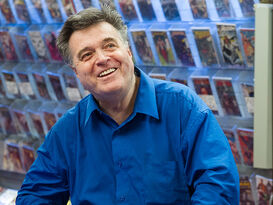 Neal Adams has worked on comics since the early 1960's. He has co-created many iconic DC Comics characters like Ra's al Ghul, John Stewart and Man Bat. He is most famous for writing and drawing Green Lantern/Green Arrow for having stories deal with racism, drug addictions and pollution. He also worked on Superman: The Coming of the Supermen, Aquaman, Kamandi Challenge, Red Sonja, Batman, Mr. T and the T-Force, Green Arrow, Thor, Vampirella, Superman, The Flash, Avengers, Detective Comics, World's Finest, Green Lantern, House of Secrets, Action Comics, X-Men, Phantom Stranger, Brave and the Bold, Savage Sword of Conan and Deadman.
He drew an alternate cover for Knights in a Half Shell and Epilogue: The Terror of the Kraang.
Community content is available under
CC-BY-SA
unless otherwise noted.