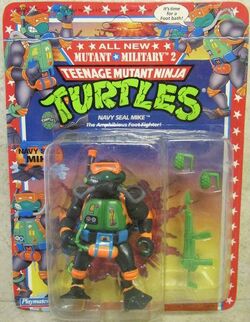 He swims like a fish and stings like a bee. He's Navy Seal Mike-the only Turtle Teen trained for underwater Mutant Military missions. Ready at a moment's notice to be dropped anywhere in the free or foul world, Navy Seal Mike is fully prepared to battle the Foot from here to eternity. He's suited up and ready to get wet. Protection? He's got it with his slippery sewer submersible suit. There's his reptile regulator, too-perfect for sucking oxygen from his Turtle-textured O2 tanks. Then there's the sewer spear gun, excellent for poking holes in passing Foot subs! And when the Foot are topside, Mike likes to let loose a few of his Mutant mines, 'cuz like Mike says, "Anytime is a good time for a Foot bath!" So, beware Foot fools. It's sink or swim with Navy Seal Mike!
Gallery
Community content is available under
CC-BY-SA
unless otherwise noted.