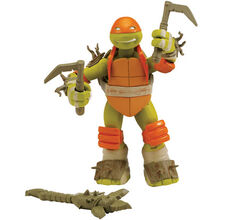 BE STILL – LIKE THE FOREST!
Description
After being defeated by Shredder and the Kraang, Michelangelo learns to embrace stillness and focus his mind. Discarding distractions, he knows it's time to buckle down and prepare for battle. He even trains in camouflage to blend into the forest.
Figure includes nunchuks and twin katanas.
Articulation
Ball Joint Head
Swivel Hinge Shoulders
Swivel Hinge Elbows
Swivel Wrists
Swivel Hinge Hips
Swivel Hinge Knees
Accesories
2 Sickles/Twin Kama
Battle Club
Notes
Playmates' official description for the figure says his accessories are nunchucks and twin katanas, though it's not true, the figure comes with two sickles (his Kama) and a battle club.
Gallery
Community content is available under
CC-BY-SA
unless otherwise noted.