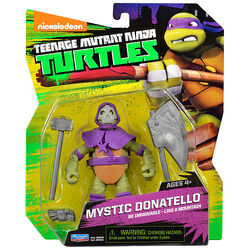 BE IMMOVABLE – LIKE A MOUNTAIN!
Description
After retreating to the woods with the other Turtles, Don starts a new training regime. He weighs himself down with stones to help his body and mind become "immovable like a mountain" while preparing to take back the City with his brothers.
Figure comes with a hammer, an ono (stone axe), and a bo staff.
Articulation
Ball Joint Head
Swivel Hinge Shoulders
Swivel Hinge Elbows
Swivel Wrists
Swivel Hinge Hips
Swivel Hinge Knees
Accesories
Notes
Playmates official description says the figure comes with a bo staff, it's proven inaccurate. Instead, the figure comes with a bundle of rope.
Gallery