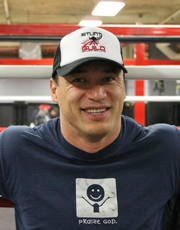 Myles Humphus came from humble beginnings in a small, rural town in Georgia to a career in football, then mixed martial arts before stunts. Roles on Saturday Night Live, Dead Man Down, The Place Beyond the Pines taught him the basics of this new journey earning his SAG card along the way. He was introduced to the rigors of stunt work on Aronofsky's Noah, where the physical demands were only outweighed by the mental strains of such an epic undertaking. The opportunities continued as he was called to Budapest to back up Tanoai Reed doubling Dwayne Johnson in Hercules. Immediately following his return to the States, he again joined Tanoai to double the massive "Silverback" on Fast & Furious 7 before dropping 30lbs in a week to double the muscular Vin Diesel on the same project. Again, showing amazing dexterity, he assumed character roles on Banshee, White Collar and Believe. With the experience gained from working with the world's finest directors, actors and stuntmen, Myles continues to gain notoriety as a bright new face in the world of moving images.
He'll be providing motion capture for Rocksteady in the 2016 film.
Community content is available under
CC-BY-SA
unless otherwise noted.