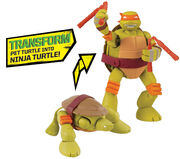 Pet Turtle to Ninja Turtle
Description
Once pet turtles, they mutated in ooze and were raised in the ways of Ninjutsu by their rat sensei, Splinter. Now the Teenage Mutant Ninja Turtles are ready to venture outside their sewer lair to fight evil everywhere!
Michelangelo comes with his signature nunchuks.
Help Michelangelo mutate from a pet turtle to a Ninja Turtle!
Articulation
Ball Joint Head
Swivel Hinge Shoulders
Swivel Hinge Elbows
Swivel Wrists
Swivel Hinge Hips
Swivel Hinge Knees
Swivel Hinge Feet
Accessories
Gallery
Videos