"The Remodeled Rodent Samurai Sage!"
VITAL MUTISTICS
Accessories
- Kowabuna Changin' Cane, Konki Crossbow Club, Cut-up Cheese Knife, Retromutagen Ooze Canister, Mega Mutation Chart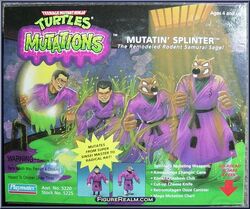 Watch out! The gregarious Green Ones and their foes are makin' a change - literally! These guys start out as mild-mannered mortals, but move a piece here, pull a tab there and - presto! - they mutate into the crazy mutant maniacs you know and love. That's right, Einstein - these fantastic figures actually, really and truly mutate! You know the story: they started out as pets, then got oozed. Well dudes, watch out! 'Cause the Turtles, they now are really changin'! See that fork - it's a sai; see that camera - it's a shell drill. Oh, and that lunchbox is really a machine gun! You got it - each figure also comes with his own crazy mutating weapons assortment, too. This awesome collection feature 4 heroes in a half shell (who mutate from pets to Turtle Teens), Bebop, Rocksteady and Sensei master, Hamato Yoshi (who mutate from human to mutant form).
Notes
Gallery
Community content is available under
CC-BY-SA
unless otherwise noted.