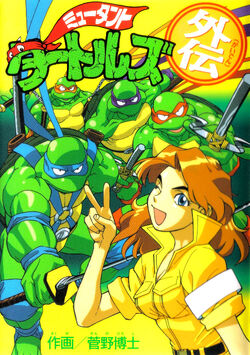 This article is about the self-contained manga series. For the fan-made webcomic, see Mutant Ninja Turtles Gaiden
Mutant Turtles Gaiden (ミュータント・タートルズ外伝 - Mutant Turtles Side Story) is a four-volume manga series that is very loosely based on the 1987 TV series. The comic was written by Hiroshi Kanno and published by Dengeki Comics.
It may have started publishing in December 1995, preceding the May 1996 anime Mutant Turtles: Chōjin Densetsu Hen.
Characters
Gallery
External links
Community content is available under
CC-BY-SA
unless otherwise noted.