This article is for the manga. For the mutated species, see Mutant turtle.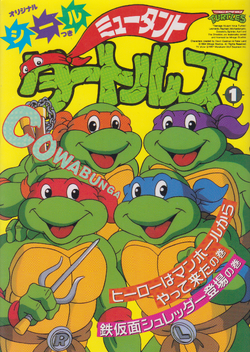 Mutant Turtles (ミュータント・タートルズ) is a gag manga published by Dengeki Comics. Stories are loosely based on the 1987 animated series, but are much more comedic in tone than even the series they've taken after, and as such have some divergent character designs, and slapstick and pratfalls are played up. The rotation of artists on the series included Tsutomu Oyamada, Zuki Mora, Tadashi Makimura and Yoshimi Hamada. Yasuhichi Konoha adapted the Teenage Mutant Ninja Turtles III live-action movie into a special volume, probably printed between the ninth and tenth volumes of the ongoing series.
The volumes of the series, published between January 1994 and February 1995, adapt episodes following the order of the show's airdates on Japanese television between October 6, 1993 and May 4, 1994.[1]
Volumes
1: Turtle Tracks and Enter the Shredder by Tsutomu Oyamada
2: A Thing About Rats and Hot Rodding Teenagers from Dimension X by Tadashi Makimura
3: Shredder & Splintered and Return of the Shredder by Yoshimi Hamada
4: Invasion of the Punk Frogs and The Case of the Killer Pizzas by Yoshimi Hamada
5: The Incredible Shrinking Turtles and It Came from Beneath the Sewers by Tadashi Makimura
6: The Mean Machines and Curse of the Evil Eye by Tsutomu Oyamada
7: Enter: The Fly and Cowabunga Shredhead by Tadashi Makimura
8: New York's Shiniest and Teenagers from Dimension X by Tsutomu Oyamada
9: The Cat Woman from Channel Six and Return of the Technodrome by Yoshimi Hamada
Special: Teenage Mutant Ninja Turtles 3 by Yasuhichi Konoha
10: Attack of the 50-Foot Irma and Leatherhead: Terror of the Swamp by Tadashi Makimura
11: Four Turtles and a Baby and Plan 6 from Outer Space by Tsutomu Oyamada
12: Planet of the Turtles and Shredder's Mom by Yoshimi Hamada
13: Rebel Without a Fin and Enter the Rat King by Tsutomu Oyamada
14: Turtlemaniac and Turtles of the Jungle by Yoshimi Hamada
15: Donatello Makes Time and Donatello's Degree by Tsutomu Oyamada
Major characters
April O'Neil

Bebop

Donatello

Krang

Leonardo

Michelangelo

Raphael

Rocksteady

Shredder
Additional Characters
References
↑ ミュータントタートルズ 完全大図鑑 コミックボンボンスペシャル92 (Kodansha '92: Mutant Turtles Encyclopedia), page 88.
See also