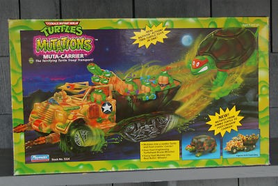 "The Terrifying Turtle Troop Transport!"
Description
Can you handle the responsibility? Can you handle the power? This is the machine that separates the boys from the real Mutants. This is the awesome Muta-Carrier - no, it's a giant, jumbo Turtle - no, oh no - oh, my Mutant stars - it's both! It's the ol' Turtle trojan horse idea, boys. Just wander in to the Foot camp like a giant, stupid Turtle. The Clan will think it's surrender time. But before they take the big Teen prisoner , you just flip, slip and dip the lumbering reptile into the awesome Muta-Carrier. How? Well, with the big Green Guy in position, just a touch of Ooze and you're off to creating havoc for the hoodlums of the world!"
Remember, the power is in the process: a flip of the fancy feet, a fold of the Foot-foolin' Turtlehead - and you'll see the miracle of change - right before your eyes. Yes, you control the Mutation of the most powerful Turtle transport in the world! Just think of it - you wait for the bad boys to come and get the Teen, then you surprise 'em by launching the Turtlehead bruise missiles! With their guard down, you'll flip down the real rollin' wheels - and you're off with an all out assault. But most importantly, the Foot will wonder what happened to the Turtle - cuz this Muta-Carrier is a total make-over. So move over, Clanboys - or get Turtle stomped!
Gallery
Community content is available under
CC-BY-SA
unless otherwise noted.