Mrs. Jones
Biographical information
Home

(formerly) Jones Farm, Northampton, Massachusetts, Earth;
(later) New York City

Ethnicity

Caucasian

Aliases

Casey's mom

Nickname(s)

Ma (by Casey)

Occupation

Mother

Physical description
Species
Gender
Hair color

Black

Eye color

Black
Grey

Out of universe information
Era(s)
First appearance
Created by
Voiced by
Teachers and Students
Student(s)

  [Source]
Mrs. Jones is the mother of Casey Jones, aunt of Sid Jones, and the later mother-in-law of April O'Neil. She is also a direct ancestor of Cody Jones.
History
The mother of Casey appears in the episode H.A.T.E. in season 3 of the 2003 TV series as well as the Back To The Sewer episode Wedding Bells and Bytes.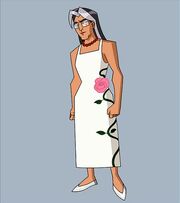 Casey's mother in the 2003 cartoon series appears to be a much more resolute and brisk person than in the Mirage comics. After the death of her husband by the Purple Dragons she was very careful not to let her son fall into the wrong hands. When April first met her, she made her son's 'fiancee' undergo a series of rigorous tests, through clenched teeth April passed them with the help of Leonardo and Splinter. Casey's mom was pleased that April passed all her test and told her she could now call her "Mom".
But on this occasion Mrs. Jones discovered the two secret helpers and asked Casey to tell her the story about them someday, later she told her wayward nephew Sid of the Turtles and Splinter, when Casey's and April's wedding was imminent—on the condition he not tell a soul about Casey's special friends or she'll "bust his kneecaps."
See also
Community content is available under
CC-BY-SA
unless otherwise noted.