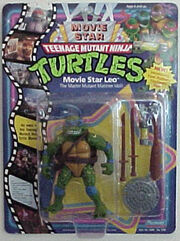 The Master Mutant Matinee Idol!
Description
This mutant movie star has been seen by thousands – nay, mutant millions! He's lead role Leo – and he's fresh from the screen and lookin' like a true teen idol. Even though Leo can propel props and clear a path through a horde of hideous Foot henchman, he prefers to use his movietime manhole cover. Ever since he's picked up a Foot bopper at the toy store, Leo's become a master head basher. And whether he's hanging over sharp metal shards or slicin' pizza, Leo always remembers his lines – and his cue katana blades. So, go ninja go – get the hard-edged glitz 'n glamour of lens-lovin' Leo!
Accessories
Movietime Manhole Cover
I Win, You Ooze Canister
Foot Bopper
2 (count 'em, 2) On Cue Katana Blades
Ninja Stars
Bodacious Belt

Gallery
Community content is available under
CC-BY-SA
unless otherwise noted.