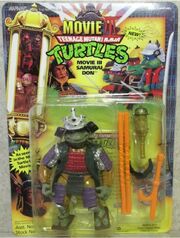 The Foot Fightin' Film Star
Accessories: Time-slippin' Scepter, Backlot Bos, Honor Guard Mask, Close-up Kama
He's Don and he's back – back in time! That's right, this time-slippin' Samurai is fightin' for truth, justice and a bigger piece of pizza in 17th century Japan. And they didn't even have pizza back then. Whoa! Don's got his work cut out for him this time. He's got to figure out a way to defeat the demented Daimyo, save the village and get back to the present – and all without any of his cool hi-tech stuff. But what he does have will definitely hurt – the bad guys, that is. The Castle Guards will shudder when they see Don's backlot bo – one strike and you're out – cold. His honor guard mask is perfect for foolin' dumb Daimyos. The ever-sharp and ever-ready close-up kama is sure to give radical Rebels the winnin' edge. And who could forget the time-slippin' scepter? Well, Mike could, but that's another story. So Strap yourself in – Samurai Don is one time travelin' Turtle Teen who knows what time it is – it's Turtle Time!
Community content is available under
CC-BY-SA
unless otherwise noted.