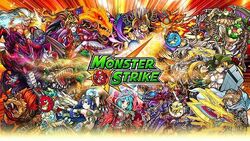 Monster Strike is a physics-based action/RPG by Mixi, Inc., released for iOS and Android in 2014.
An event allowed players to acquire the Ninja Turtles (individually and as a set) as well as Shredder.
Trivia
Highly stylized versions of the Turtles' artist namesakes are also characters in the game, as well as Fujiko Mine, who David Wise claimed inspired him to make April O'Neil's jumpsuit yellow.