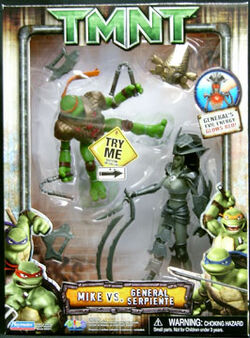 It's whirling nunchakus vs slashing machetes… natural ninjitsu skill versus slithery snake speed… it's Ninja Turtle Michelangelo VS. Stone General Serpiente! Mikey's in for the fight of his life when he goes mano-a-womano against this three-thousand year-old armored warrior! With Serpiente's molten red glowing heart, twin obsidian blades and bushido-blockin' shield, it's going to take all of Mikey's skills, charms and warrior armor to rock this stone cold soldier!
Community content is available under
CC-BY-SA
unless otherwise noted.