Michelangelo is a Heroclix figurine included in the first set release. It is based off of his 2012 TV series incarnation.
Attributes
Animal, Martial Artist, TMNT, TMNT Ally
Powers and abilities
Most Acrobatic Of The Turtles
Most Unpredictable Of The Turtles: Opposing characters can't use Probability Control to reroll attacks made by or targeting Michelangelo.
Party Time! (Sidestep)
You Think You Can Handle My Hot Nunchuk Fury? (Flurry)
Spin Attack: Michelangelo can use Quake. When he does, after actions resolve give each hit character an action token.
Smoke Bomb! Dr. Prankenstein Is In (Smoke Cloud)
I Think I Need To Change My Shell (Toughness)
Most Endurance Of The Turtles: Michelangelo can use Combat Reflexes and Willpower.
You Guys Underestimate Me - Ooh, Gum! (Perplex)

Point value: 60
Universe: Teenage Mutant Ninja Turtles (2012 Animated Series)
Gallery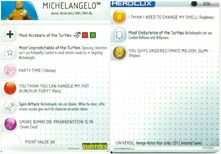 Community content is available under
CC-BY-SA
unless otherwise noted.