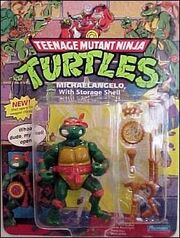 The Hero on a Hinged Half Shell!
Vital Stortistics
Accessories: Pipe Grappling Hook, Mini-sickle, Snake Bow, Pizza Disc, Two Nunchukus, Two Ninja Stars, Turtle Flashlight
Capacity: Fourteen Turtle Tons or 500 Packed Pizzas
Favorite Time: Party Time!

Mike used to take mid-battle breaks to scarf down some heavy duty pizza power, but now with his pizza-packing back, he keeps going and going. Mike can scrunch lots of pizza in his thermal storage shell, and even more if he didn't have to take along an anti-Foot arsenal. But Mike knows that without his pipe grappling hook and mini-sickle he could end up as Turtle-topping on a Foot Clan double crust special. So he packs his nunchukus and his flashlight (which also works as a portable pizza heater), just in case those party crashing creeps interrupt his snack. Now if he could only figure out a way to keep his ninja stars from getting gooey.
Notes
For some unknown reason, this figure only had three Nunchuku loops on his belt.
Gallery
Community content is available under
CC-BY-SA
unless otherwise noted.