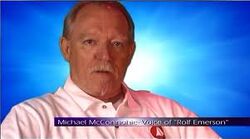 Michael McConnohie (born July 23, 1951 in Mansfield, Ohio) is a popular voice actor whose voice was dubbed over Toshiro Obata's for Tatsu in the 1990 film and Teenage Mutant Ninja Turtles II: The Secret of the Ooze. He and fellow actress Melodee Spevack run a production company called VoxWorks.
Selected roles
Multiple characters - Digimon
Narrator - Bobobo-bo Bo-bobo
Gork - Masked Rider
D - Vampire Hunter D
Chief Inquisitor Margulis - Xenosaga
Announcer - Shady's Poopong: 22nd Anniversary Edition
Astaroth - Soulcalibur series
Seth - Street Fighter IV
Kano - Mortal Kombat vs. DC Universe, Mortal Kombat (2011), Mortal Kombat X
Community content is available under
CC-BY-SA
unless otherwise noted.