"Mascot Melee" is the eighth episode (Episode 5A) of Rise of the Teenage Mutant Ninja Turtles. It first aired on September 26th, 2018.
Synopsis
In order to get a birthday gift for Splinter, the Mad Dogs have to take on thuggish Times Square mascots.
Characters
Major Ccaracters
Minor characters
Splinter (Eric Bauza)
Tourist (Grey Griffin) (debut)
Plot
| | |
| --- | --- |
| | This article or section is incomplete. Some information regarding this topic has not been added. Please help TurtlePedia by finishing this article. |
Quotes
Donnie: My hero Atomic Lass may be about to sing!!
Raph: Have seen my wallet??
Mikey: April's memes are so lit
Errors
The episode contain some continuity errors.

At the end of "Mascot Melee", Splinter receives the normal brown-and-yellow robe he wears in every other present day appearance in the series, to replace his old, disintegrating burgundy-colored robe. That would seem to place this episode chronologically before even the first episode "Mystic Mayhem", when he was already wearing the new robe. However, in "Mascot Melee" the Mad Dogs already have the mystic weapons they took from Baron Draxum's armory no earlier than in "Mystic Mayhem".
In "Mascot Melee", the Mad Dogs also have their Turtle Tank, which Donatello first unveiled in its current state in "The Fast and the Furriest". But in "The Fast and the Furriest", Splinter stole the tank for a joy ride before his other sons could see it for the first time, and he was wearing the brown-and-yellow robe he receives in "Mascot Melee".
Trivia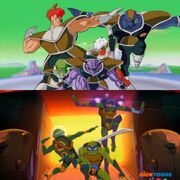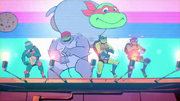 Mikey states "I still think my trench coat idea would've worked", this is a reference to the 1987 TV series and the 1990 film, in which the Turtles wear trench coats and fedoras as disguises when in public.
The Turtles do the dance from Vanilla Ice's Ninja Rap from the second 90s film.
April's meme features the head of Raphael from the 1987 TV series, pooping cookies.

The meme itself is also a reference to Nyan Cat.

When Donnie was closing the Turtle Tank's door, he was whistling the 80s cartoon theme song
Running Gag: Donatello mentions that he would like to work with Atomic Lass fighting crime in Uranium Hill.
It is revealed in this episode that Raph is allergic to peanuts.
When the Turtles prep to save Raph, their poses are similar to those of the Ginyu Force from Dragon Ball Z (Kai), which the edited FUNimation dub aired on NickToons USA on 2010-2012.
Gallery
External Links
Community content is available under
CC-BY-SA
unless otherwise noted.