Teenage Mutant Ninja Turtles
(often shortened to TMNT or Ninja Turtles) are a fictional team of four teenage anthropomorphic turtles -
Leonardo
,
Donatello
,
Raphael
, and
Michelangelo
- named after four Renaissance artists, who were trained by their anthropomorphic rat sensei,
Splinter
in the art of
ninjutsu
. From
their home
in the storm
sewers
of
New York City
, they battle petty criminals, evil overlords, mutated animals, and alien invaders while attempting to remain isolated from society.
The characters originated in the Teenage Mutant Ninja Turtles comic book before their expansion into a cartoon series, films, video games, toys, and other general merchandise. During the peak of franchise's popularity in the late 1980s through the early 1990s, the franchise gained considerable worldwide success and fame.
Featured article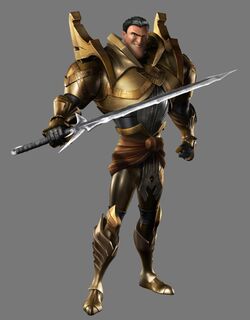 Maximilian Winters was a business mogul who appeared in the 2007 CGI theatrical film. He was obsessed with finding four specific stone statues and hired April O'Neil to track them down in the Central American wilds. Beneath this, he harbors a very obscure past....
Featured Quote
"Life at best is bittersweet"
-- Kirby, TMNT 2k3, S01E16
Similar wikis
TurtlePedia Fanon is a Wiki for cataloguing the many fan-made incarnations of the TMNT! Whether it be fan comics, fan films, or fan games, you'll find them all here!