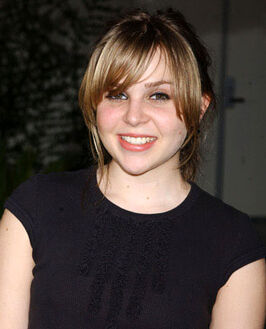 Mae Margaret Whitman (born June 9, 1988; 32 years old) is a popular voice and live action actress. Her best known roles are as Roxie Richter in Scott Pilgrim vs. The World (she also voiced Lisa in the animated adaptation, Scott Pilgrim vs. The Animation) and the voice of Katara in Avatar: The Last Airbender. Her other voice roles include Batgirl in Batman: The Brave & The Bold and DC Super Hero Girls, Annaleigh Quagmire in Family Guy, Yuffie Kisaragi in Kingdom Hearts II and some Final Fantasy VII materials, Rose from American Dragon Jake Long (with Dante Basco who also provided voices with her in Avatar: The Last Airbender), and as Disney's Tinkerbell character. Her mother is Pat Musick.
In the 2012 TV series, she provides the voice of April O'Neil, Princess in Super Robo Mecha Force Five!, Wizardess in Crognard The Barbarian, Valaxina, and Za-Naron.
Community content is available under
CC-BY-SA
unless otherwise noted.