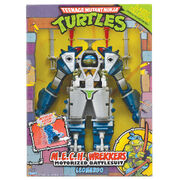 Motorized battlesuit
Description
Leo can't wait to lead his brothers into big butt-kicking battle, especially now that he's got his new M.E.C.H. Wrekker battle armor! With his giant slicing katana blades, humongous height, and awesome protective armor, there's no stopping this master of 6th-century ninjitsu, now upgraded with 21st-century weaponry!
Spinning Radar
Shoulder Mounted Mega-Missiles
Leonardo Figure Included
Giant-Size Katana Swords for Slice & Dice Action
Motorized Turtle Stompers
Articulation
Swivel Shoulders
Hinge Elbows
Notes
Gallery
Community content is available under
CC-BY-SA
unless otherwise noted.