TMNTPedia Restructuring Project!


This article is currently part of a massive restructure of TMNTPedia any help you can offer is appreciated!
Check the article's talk page for others plans, and to offer your own.

This is a list organized chronologically of the various action figures released by Playmates Toys in the Teenage Mutant Ninja Turtles toy line from 2012 to 2017.
2012
Basic Figures
Wave 1
Wave 2
Vehicle Exclusive Figures
Deluxe Figures
11" Figures
Classic Collection
2013
Basic Figures
Wave 3
Wave 4
Wave 5
Wave 6
Wave 7
Vehicle Exclusive Figures
Deluxe Figures
Classic Collection
Soft Body Figures
2014
Basic Figures
Wave 8
Wave 9
Wave 10
Wave 11
Wal-Mart First Wave
Target Exclusive 3 Pack
Vehicle Exclusive Figures
Deluxe Figures
Mutations Figures
Special Feature Figures
Classic Collection
Soft Body Figures
Half Shell Heroes Preschool Segment
Basic Figure 2-Packs
6" Talking Figures
12" Mega Mutants
Vehicle-Figure Combos
Playsets with Figures
Non-Related to Playmates Figures
Jakks Pacific Figures
2014 Movie figures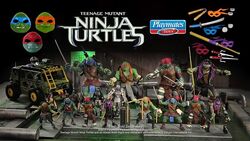 Basic Figures
Evolution 3-Pack
Deluxe Figures
11" Figures
2015 Releases
2012 series
Basic Figures
Wave 12
Wave 13
Wave 14
Wave 15
Vehicle Exclusive Figures
Mutations Segment
Half Shell Heroes Preschool Segment
Basic Figure 2-Packs
Non-Related to Playmates Figures
Minimates
2016 Releases
Classic Collection
2012 Series
Basic Figures
Wave 16
Wave 17
Wave 18
Wave 19
Out of the Shadows
Basic Figures
Deluxe Figures
Battle Sound Leo
Battle Sound Raph
Battle Sound Donnie
Battle Sound Mikey
Battle Sound Bebop
Battle Sound Rocksteady
11" Figures
11" Leonardo
11" Donatello
11" Raphael
11" Michelangelo
11" Bebop
11" Rocksteady
Vehicle Exclusive Figures
2017 Releases
Basic Figures
Undetermined Releases
Jakks Pacific Colossal Raphael
Jakks Pacific Colossal Donatello
Cancelled Figures
See Also