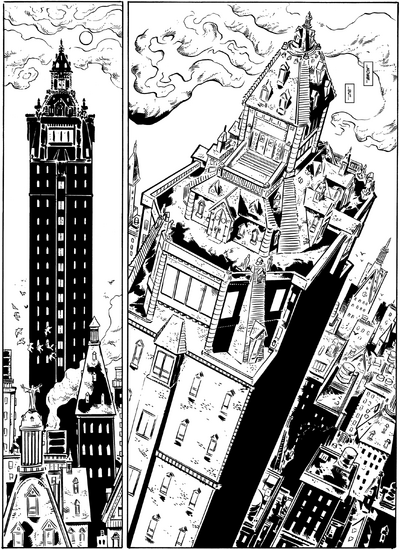 YOU'RE NOT ON 
 NICKTOONS 
 ANYMORE! 

Some TMNT stuff really isn't for little kids.
In the Mirage TMNT universe, Lilith's Den is a location in the city of Nocturna in the hidden world of Nocturna, appearing in the miniseries Raphael: Bad Moon Rising. It is the home of Lilith, her daughter Lucrezia, Lilith's werewolf Sisterhood, and their ordinary pet wolf Clea. Though referred to as a "den," it is actually a luxurious penthouse dwelling at the top of a city skyscraper. It can only normally be accessed by elevator from an entrance located in Nocturna's sewer.
History
In Bad Moon Rising, Lilith and her Sisterhood (excluding Sloane and Lucrezia) were kidnapped Lord Incubor in a conspiracy involving Sloane and Chiton, Lucrezia's father and Lilith's ex-husband. Sloane recruited Raphael and Shadow to come to Nocturna and help rescue Lilith, and the den was the first place they investigated. There was no sign of Lilith or the other werewolves, but the severed head of their pet Clea was found impaled on a spike on the den's rooftop. Soon after, a giant barn owl ripped the entire penthouse structure from its skyscraper foundations with the characters still inside, carried it out to sea, and dropped it onto the open ocean where it was a cushioned and enveloped by a giant jellyfish. When the characters woke up, they found themselves safe in Chiton's care at his kingdom of Atlantia. The den was not shown again in the story.