HEY, KID, YOU'RE 
 A LONG WAY 
 FROM NICKTOONS! 

Some TMNT stuff was always meant for grownups.
Leonardo's wife
Biographical information
Ethnicity
Occupation

Leonardo's Wife

Affiliation
Physical description
Species
Gender
Hair color

Black

Out of universe information
Era(s)
Publisher
First appearance
Created by
Teachers and Students

  [Source]
Leonardo's wife is an unnamed character appearing in Tales of Leonardo: Blind Sight in the Mirage TMNT universe. Leonardo experiences a vision of another life where he is a samurai in feudal Japan, having been born to the turtle demon Kappa and raised by Kubira the rat of the Japanese zodiac. In this vision, the turtle has a human wife, and together they have a human daughter named Yumi. Leo's wife accepts him for all that he is, turtle and all, but she strongly dislikes her husband's swords.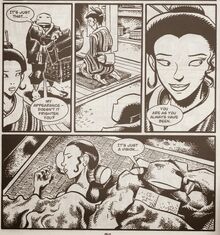 Trivia