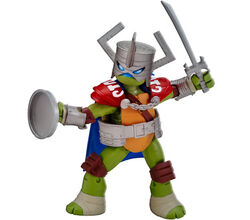 Live Action Role Play
Mutated from Ooze and raised in the ways of ninjutsu by their rat sensei, Splinter, the teenage mutant ninja turtles are ready to venture outside their sewer lair to fight evil everywhere!
Description
Leo creates the perfect costume and becomes the ferocious "Leo the Knight!" With his fierce medieval source, garbage can lid shield, metal breastplate and a pizza sauce can helmet, he is ready to take on his LARP adventure! Little did he know his little game would send the turtles on a challenging mission to save April.
Accessories
Removable Helmet
Sword
Shield
Articulation
Ball Joint Head
Swivel Hinge Shoulders
Swivel Hinge Elbows
Swivel Hinge Hips
Swivel Hinge Knees
Swivel Wrists
Notes
Gallery
Community content is available under
CC-BY-SA
unless otherwise noted.