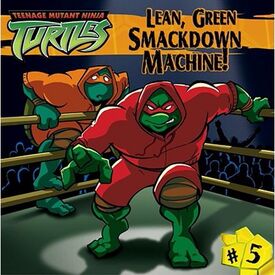 Lean, Green Smackdown Machine! is a children's book written by Stephen Murphy and illustrated by Aristides Ruiz and Mike Giles and published by Simon Spotlight on 31 August 2004.[1] It features characters from the 2003-2009 animated TV series.[2]
Synopsis
Michelangelo and Raphael are fighting over which one of two professional wrestling programs to watch. A commercial comes on and captivates them; a wrestling promoter named Lon Jing announces that an amateur wrestling match was to take place at the Ronald Rump Civic Center. Mike and Raph cease their quarreling and decide to join this match.
The two Turtles don hooded sweatshirts and bicycle shorts, and Lon Jing admits them to the bout, with the brothers taking the name "The Lean, Green Smackdown Machine" as their stable name. Upon approaching the ring, the Turtles find out their opponents are Hun, who is decked out with a pair of shabby overalls, fake beard, and pointed farmer's hat; and his apparent brother Ahnold, who also sports a pointed farmer's hat and torn overalls, as well as a sleeveless flannel shirt. Michelangelo is quick to see through Hun's disguise.
Upon the match's start, the Turtles find themselves being trounced hard by the human brothers, who go by "The Massive Man-Mountains". After taking quite the beating, Raphael gets an idea to apply some of their ninja training to the match. The two Turtles stand back-to-back, with their opponents each facing one of them. They suddenly leap toward their foes and trip them, sending Hun and Ahnold crashing into one another. Raph and Mike then pin their opponents, and they win the match as well as a trophy belt as a prize.
Back in the sewer, Raph and Mike begin to fight over who gets to wear the belt. Splinter takes solace in the fact that at least they are no longer fighting over the remote, and he turns on a Bruce Lee movie.
References
Community content is available under
CC-BY-SA
unless otherwise noted.